Volunteer at
My Friend's Place
Each year, more than 1,000 volunteers participate in providing life-changing care at My Friend's Place for youth and young adults experiencing homelessness in Los Angeles.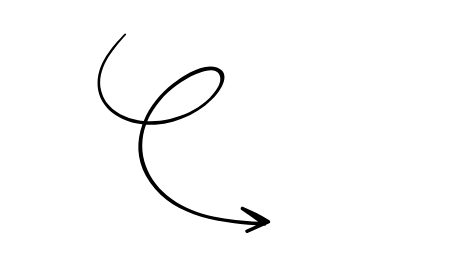 How do I Volunteer at MFP?
We are thrilled you are interested in joining our team to make a difference in
the lives of 1,000 youth experiencing homelessness in Los Angeles each year!
For information on individual volunteer opportunities, e-mail
volunteer@myfriendsplace.org!
Volunteer Opportunities
for the Community
Drives that collect items for homeless youth are a great way to build community spirit in your office or on your school campus. All you need is a barrel or box and a little publicity. We will supply My Friend's Place literature for you to hand out. Collected items must be delivered to My Friend's Place. All donations are tax deductible to the extent allowed by law.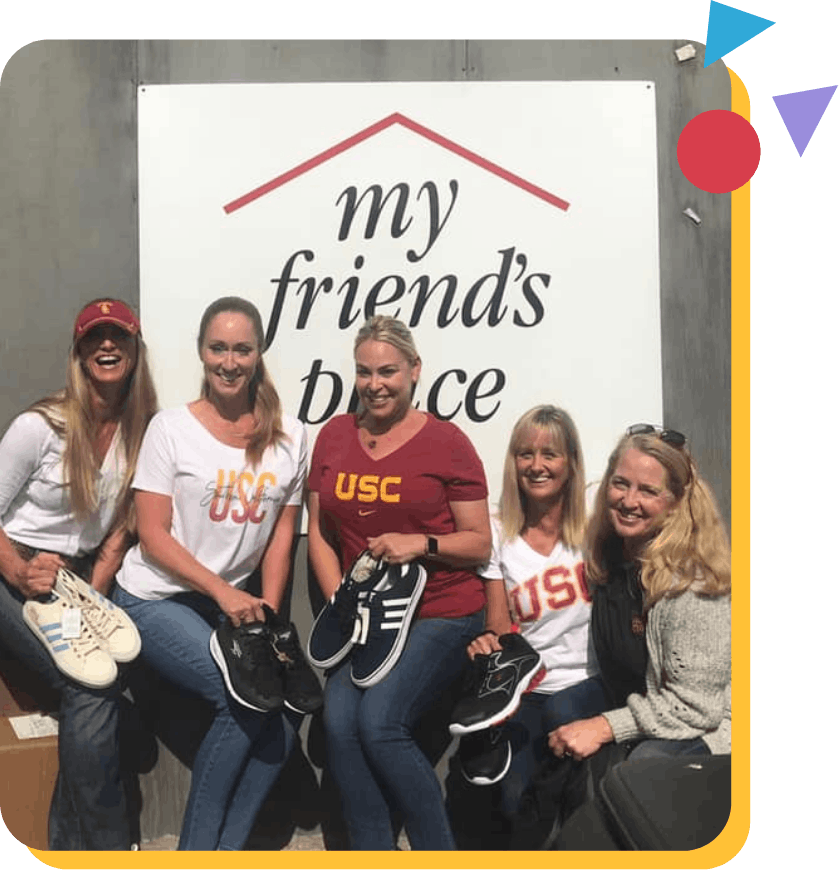 Shoe Drive
Blanket/Sleeping Bag Drive
Backpack Drive
Clothing and Hygiene Supply Drive: Every day our youth need clean, casual clothing to help build their self-esteem and their ability to achieve their goals. We have the greatest need for sizes XL and up and men's casual clothing.
Snack Drive: Non-perishable food items are most needed for our young people to take with them when they leave My Friend's Place for the day.
Gift Drive: For a variety of holidays, we give every homeless young person a new gift. We are happy to provide an extensive wish list that includes items such as gift certificates for food, clothing or movie tickets and more.
Educational and Recreational Supply Drive: We offer a variety of educational and recreational activities for the young people. We are always in need of art and school supplies.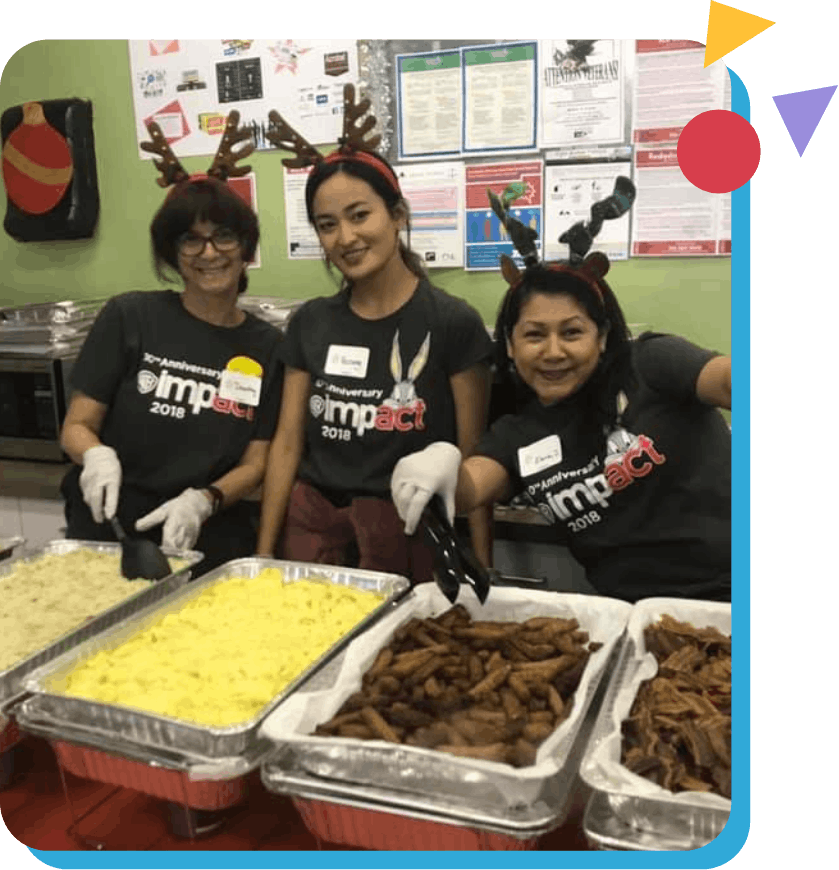 Volunteer Opportunities
for Groups
Groups require a team leader who will meet with our volunteer coordinator prior to the event. All group members will be oriented the day of the event. Limits on the size of a group will be determined by the volunteer activity—age restrictions may apply.
Please email volunteer@myfriendsplace.org with any questions.
Serve a meal: Provide and serve a special meal (breakfast or lunch) to the youth. You can bring the food or provide a donation for us to purchase the meal for you to serve.
Beautify our Safe Haven: Help out by organizing donations, cleaning, painting or general maintenance.
Gardening: We have flower beds and planters that need a green thumb. Groups donate flowers, plants, and planting soil and a little tendering loving care.
Community Service
Evening
The last Wednesday of each month you are invited to join us at My Friend's Place from 6 p.m.-8 p.m. for some volunteering fun! We'll be sorting clothing donations, stocking the pantry, assembling toiletry kits and tackling other projects to help meet the needs of our youth.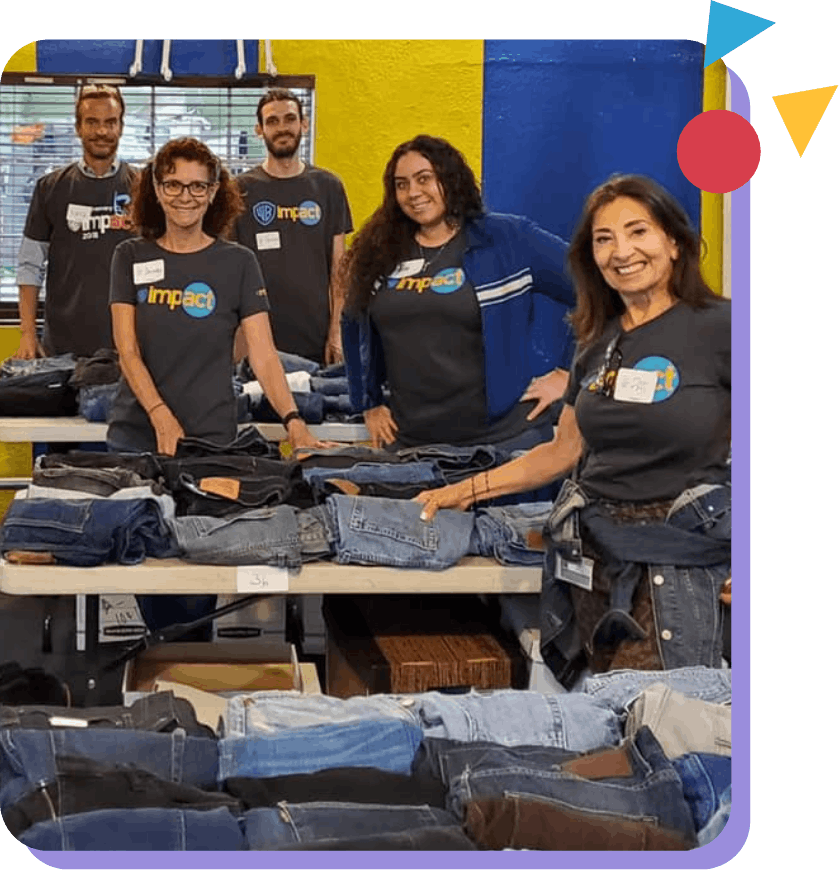 To sign up for Community Service Evenings:
1st Step
Click this link to go to SignUp.com:
http://signup.com/go/bfmZWEA
2nd Step
Review the options listed and
choose the spot(s) you like.
3rd Step
Sign up! It's Easy – you will NOT
need to register an account or keep
a password on SignUp.com.
Note: SignUp.com does not share your email address with anyone.
If you prefer not to use your email address, please contact volunteer@myfriendsplace.org and I can sign you up manually.