Chris' Story
"I was struggling with homelessness because my
parents no longer accepted me for my sexuality."
I came to My Friend's Place to pick myself back up, to get back on my feet. I remember sometimes they used to let me sleep inside because I was so exhausted from living on the streets. I was able to come here to apply for jobs and feel comfortable.
Most of the trauma that I've gone through was because of being homeless.  I've been beat in the streets and stuff before. Going through homelessness, one of the things that I've struggled with the most is the fact that I kind of shut down a little bit. I closed certain parts of my life out because I was no longer able to endure them. I suffer from depression, but with help from My Friend's Place, I can say that the depression has been eased a little bit.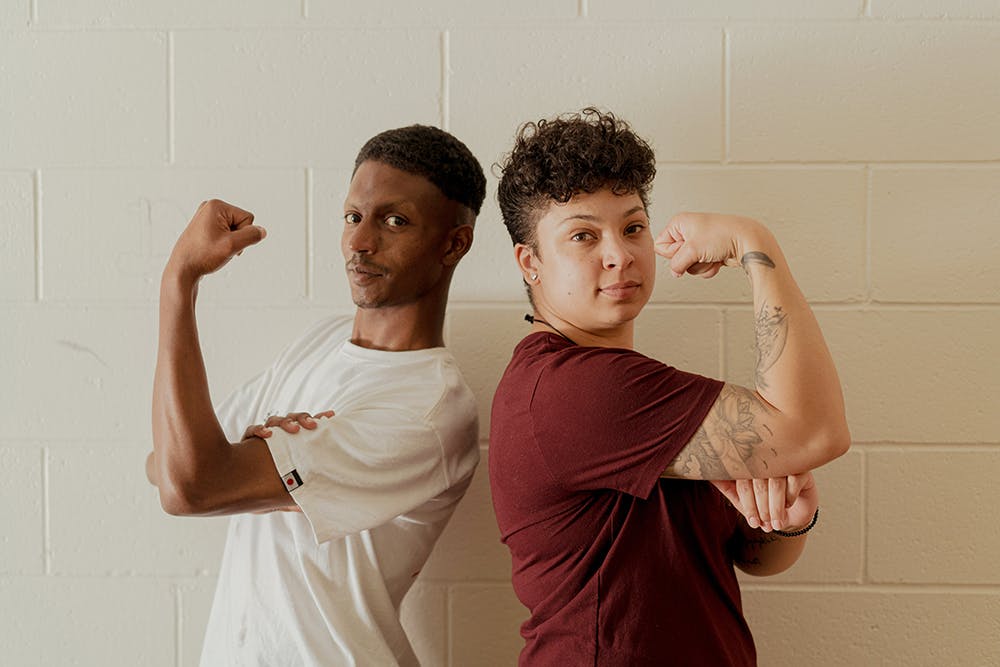 The staff here have allowed me to open up and they've been able to help me cope. I've never really had anyone in my life as supportive as they are.  When I come back and see these people that work here, it kind of feels like a blessing. Now, when I go to sleep at night, I know that if I need a person to rely on the following day, My Friend's Place will be there.
My caseworker at My Friend's Place is Kayla. Kayla is someone that I will always want to come back to talk to. She's really become a role model. Kayla came to my apartment and she said that she was proud of me. And I was like, why is she so proud of me? And I realized that, sometimes, to be able to see that you have food in your refrigerator and stuff like that, that's a good reason to give yourself a pat on the back.
At My Friend's Place, I overcame a lot of the trauma that was preventing me from expressing myself and from finally understanding who I am. I had to learn how to really appreciate even the smaller parts of myself. I had to really kind of dig deep inside and try to find value in myself, and My Friend's Place was a very big help with that. When I walk out of My Friend's Place now, I feel like I can walk with my head held high.
I appreciate Kayla and everybody that works at My Friend's Place for being kind enough to offer what they offer to me. They've helped me to learn how to be as a person. Nobody dedicates the time to who I am or sets time aside for me as much as My Friend's Place.
My Friend's Place has been able to help me get housing. They've helped me pay for rent in order to stay in housing. They helped me prepare for a job. They've given me so many clothes. These opportunities have allowed me to escape so much trauma that I might have experienced on the street. My Friend's Place ended up being a bridge back to so much of what was taken away from me. A path for me to finally reach my happiness.
Kayla White, ASW, PPSC
Health & Well-Being Coordinator
I am so proud of Chris. About 9 months ago, he moved into his own apartment. He has his own unit, his own cooking area, his own bed. Sometimes you can take these things for granted until you see how pumped up the youth get. I think one of the most important things we do at My Friend's Place everyday is celebrate each victory for each young person. Because they don't have that, they don't have someone to say, "You did a good frickin' job!" 
One of the special things about My Friend's Place is the lasting and meaningful relationships that young people form with staff here. As staff, we have the opportunity to be the positive adult figures and role models these young people didn't have growing up. We know that there is deep comfort in feeling cared for, loved and supported. Knowing that there is a person or a group of people who make you feel accepted, valued and uplifted is what gives a young person a sense of belonging and hope for the future. 
As our community, you make these relationships and this place for transformation possible. You believe in the potential of our youth and invest in their futures so that, no matter where they have come from, the systems or adults that have failed them or the traumas they have experienced in the past, they can find the care, healing and connection they need here at My Friend's Place. With your support, we can continue strengthening and nourishing this community as we all work together to end youth homelessness. 
In community, 
Kayla White, ASW, PPSC
Health & Well-Being Coordinator
Will you help youth like Chris on the journey
toward a brighter future?
Thanks to the My Friend's Place Board of Directors and generous community leaders, your gift will be TRIPLED, up to $150,000! Only contributions made through December 31 will be matched, so please consider making a gift to bring three times the support to our young people.