Continuing to show up for youth experiencing homelessness
Dear Friend,

Now more than ever, I hope this email finds you and your loved ones healthy and hunkered down. As we navigate this time when so much feels uncertain, please know that our love and care for you, our community, remains unwavering. Our team has been so touched by the calls and emails so many of you have made to check in on staff and the young people at My Friend's Place over the past few weeks. It is with your enduring care and support, that we have the confidence and resources to meet the increasing needs of our community experiencing homelessness.

In the midst of this crisis, young people experiencing homelessness continue to seek care, resources and opportunities at My Friend's Place to support their health, safety and survival. We are currently serving 50-60 youth each day, in addition to 60-70 vulnerable older individuals experiencing homelessness who have limited access to essential resources and emergency supplies. The staff at My Friend's Place are on the front lines of this crisis, providing critical care in so many ways.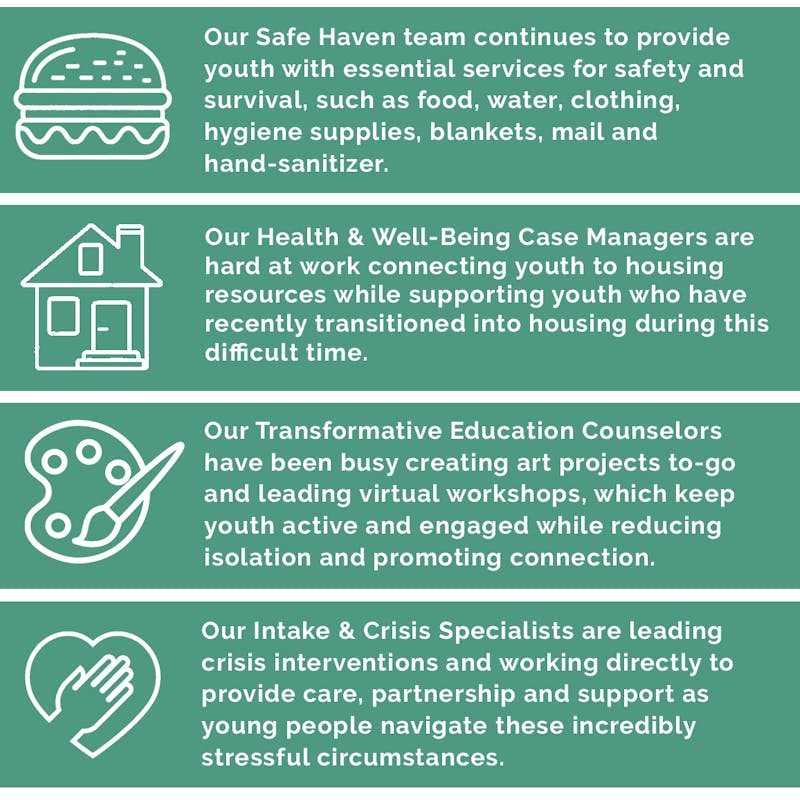 While the services we provide are vital to young people's immediate wellness during this health crisis, we know that for young people experiencing homelessness, our commitment must be enduring. Keeping our young people connected to services is vital so that, when this crisis resolves, young people can continue on their trajectories toward a permanent exit from homelessness. Thank you again to those of you who have stepped up alongside us to ensure that we have the critical supplies to address the increasing needs coming to My Friend's Place by contributing to our COVID-19 Emergency Response Fund.  If you are interested in contributing, we still need your support to ensure that we have the critical supplies to keep our facility clean and safe and ensure that we can provide youth with meals and emergency supplies related to the health crisis. You can also send essential supplies directly to My Friend's Place by shopping our Amazon wish list.

Let's continue to be a source of care, community and connection for one another and our amazing young people. 

With the greatest of gratitude,

Heather Carmichael, LCSW
Executive Director