Youth Speak, and we listen.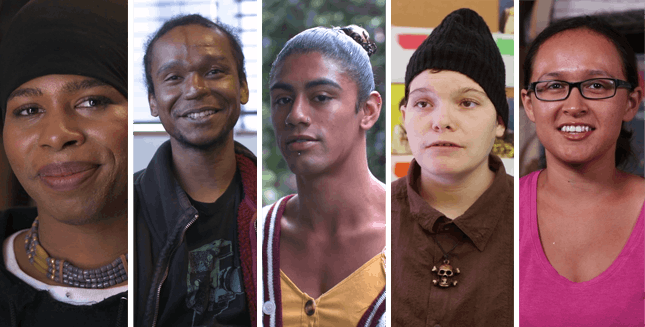 Youth speak, and we listen. At My Friend's Place, we listen every day as young people experiencing homelessness share their stories, their needs and their hopes for the future. Their desires to heal from past hurts and to find a community where they belong. Their goals of finding a job that they enjoy and a home that they can call their own. Their dreams of a safer, more stable life for themselves and their children.

We listen as we have since My Friend's Place began providing care to youth experiencing homelessness more than 31 years ago. Through the years, our programs and services have evolved in response to the needs voiced by the young people who come to My Friend's Place each day, growing into a robust continuum of care driven and shaped by the young people themselves. This year My Friend's Place found a new way in which to listen to our youth. Informed by our participation in Listen4Good, a Fund for Shared Insight initiative helping organizations to build high quality, client-focused feedback loops that lead to meaningful change, youth at My Friend's Place recently participated in a survey regarding their experiences with our programming. While we were thrilled to learn that young people's experience at My Friend's Place is overwhelmingly positive, the survey results confirmed what we have long known. Our young people feel that greater access to the programs and services of My Friend's Place would help them to more fully meet their needs and make greater progress toward stability.

Our youth spoke. We listened. And now, with your support, My Friend's Place is ready to take action and increase the number of hours each week that we are open and accessible to young people! Starting this July, My Friend's Place will be open to youth for an additional 6 hours each week—increasing the amount of time during which youth can access our programs and services by 30%! This increase in hours means that we will soon be able to provide youth with greater access to vital programming that includes day shelter, meals, showers, creative arts workshops, employment readiness programming, case management services and so many other services which help young people to meet their immediate needs and take important steps toward greater stability and self-sufficiency. Aside from the tangible, the additional hours each week will create more opportunities for connection and care, ensuring My Friend's Place can continue to be a place of safety and support for the most vulnerable members of our community.

Our youth spoke, we listened and we are positioned to take action! But first, we need your help to make this goal of greater access, opportunity and care for our youth a reality! This June, we have a goal to raise $20,000 to expand our hours for youth starting in July, and also begin our new fiscal year in a place of great strength and stability. Please consider making a gift of support by June 30th to ensure that My Friend's Place can provide even more care, community and connection to support young people on their journeys toward a permanent exit from homelessness.

Click here to provide six more hours of critical services to young people experiencing homelessness!