How to Volunteer with My Friend's Place During the Pandemic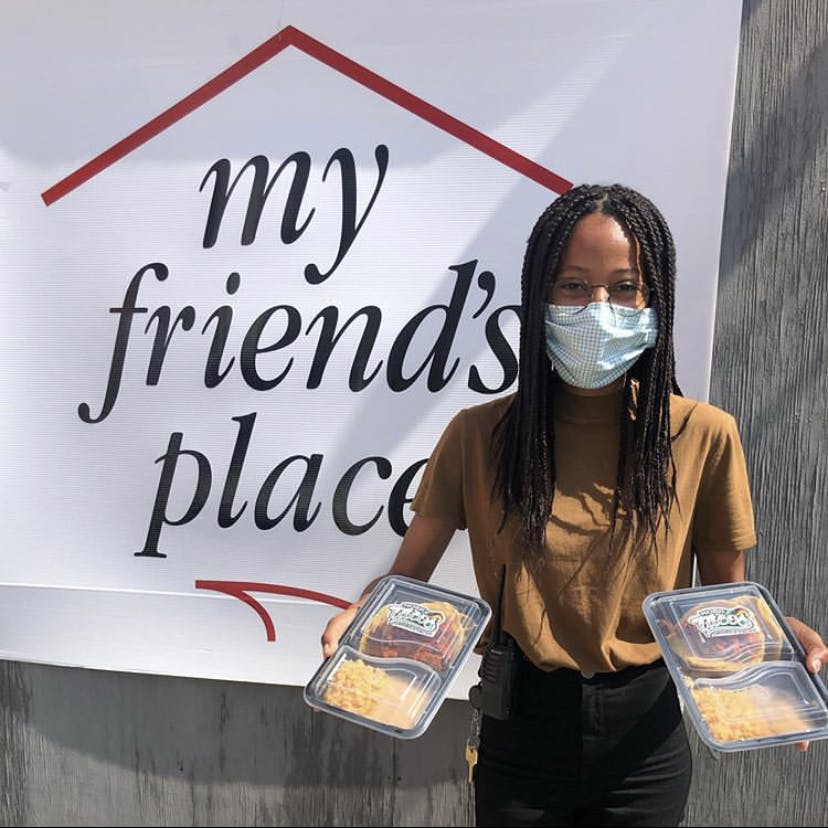 My Friend's Place is taking the necessary precautions to ensure the safety of our staff members and community during COVID-19 by postponing on-site volunteer opportunities. However, there are many ways to give back to our youth. My Friend's Place continues to adapt to new changes and provide essential resources, meals and supplies to young people experiencing homelessness. Participating in our virtual volunteer opportunities has a lasting impact on our youth and is appreciated by staff members.
Foster Our Youth's Creativity
Putting together activity and art kits for our youth help keep them occupied while encouraging their creativity. Some items to include in these kits are art supplies (paintbrushes, watercolors, paints, canvases, sketchpads) and standard school supplies (notebooks, construction paper, glue, erasers, colored pencils, crayons).
Help Our Youth Stay Safe During COVID-19
Providing fabric face masks to My Friend's Place keeps our youth equipped with the protective gear needed to be out in public. With a steady supply of face masks, we will be able to continuously give out clean and washed masks to youth in exchange for their used ones.
Provide Snack Packs
Assembling snack packs in easy-to-go bags gives our youth tasty treats to eat throughout the day. Items to put in snack packs include granola bars, chips, crackers, fruit snacks, water and more.
Support Socktober
Support Socktober by gifting My Friend's Place new pairs of socks. Contributions will help maintain our youth's health and comfort as well as get us closer to our goal of 3,000 socks by the end of October. Socks can be dropped off on-site or bought through our Amazon Wish List.
Host a Game Night for a Good Cause
Hosting a virtual game night with friends and family is a great way to raise funds and resources for our youth while enjoying an entertaining evening. Options for virtual games can range from bingo, Skribbl to charades. Participants can make a contribution to our giving page or order resources from our Amazon Wish List as an entry to the game night.
Support Our Fall Campaign
Give a contribution to My Friend's Place in support of our goal of receiving $50,000 by the end of October. Your gift can provide us with the funding needed to buy meals, clothing and supplies for homeless youth facing challenging circumstances during the pandemic.
Give Clothes
Giving new or gently used clothes helps build our supply, which provides youth with essential items like shirts and underwear. Ways to contribute clothing include hosting a donation drive, giving clothes you no longer need or ordering from our Amazon Wish List. If clothes are used, make sure they are washed and put into plastic bags with gloves on.
If you have any questions or would like to get started, please feel free to contact our Volunteer and Community Engagement Manager, Rachel Sanchez, at rsanchez@myfriendsplace.org. Also, check out our Instagram and other social media platforms to learn more about virtual volunteer opportunities and show us what you've done by tagging My Friend's Place in your photos!